Need custom rear steps and bumpers on the Gold Coast?
Protect your vehicle with a custom built and fitted front or rear bumper bar. If your vehicle is your business, the last thing you need is to be left without your usual vehicle. One way to help protect your vehicle from accidental damage is by getting us to fit strong bumpers. We can also fit rear steps and even handles, to make getting into the rear of your vehicle easy.
Along with rear steps and bumpers, our Gold Coast team can design and build jerry can holders, spare wheel carriers, and ute canopies.
Rear Step & Bumper Options
The TowStep Duo is a two-part fixed step, without a central section, that allows a substantial 110° turning angle for attached trailers. Compatible with most vehicles and most flange tow ball types, the TowStep Duo tread has been manufactured from heavy-duty plastic composite which provides a good level of grip, even in wet conditions. The tread is mounted onto a robust steel frame, providing a safe and secure entry point to the rear of your vehicle.
The TowStep is a rear access step that features a user-friendly removable centre section, allowing a trailer to be attached effortlessly in a matter of seconds.
The TowStep also allows trailers to complete an impressive industry-leading turning angle of 110 degrees. With the bolts provided, the TowStep can be fitted trouble-free to any flange type tow bar.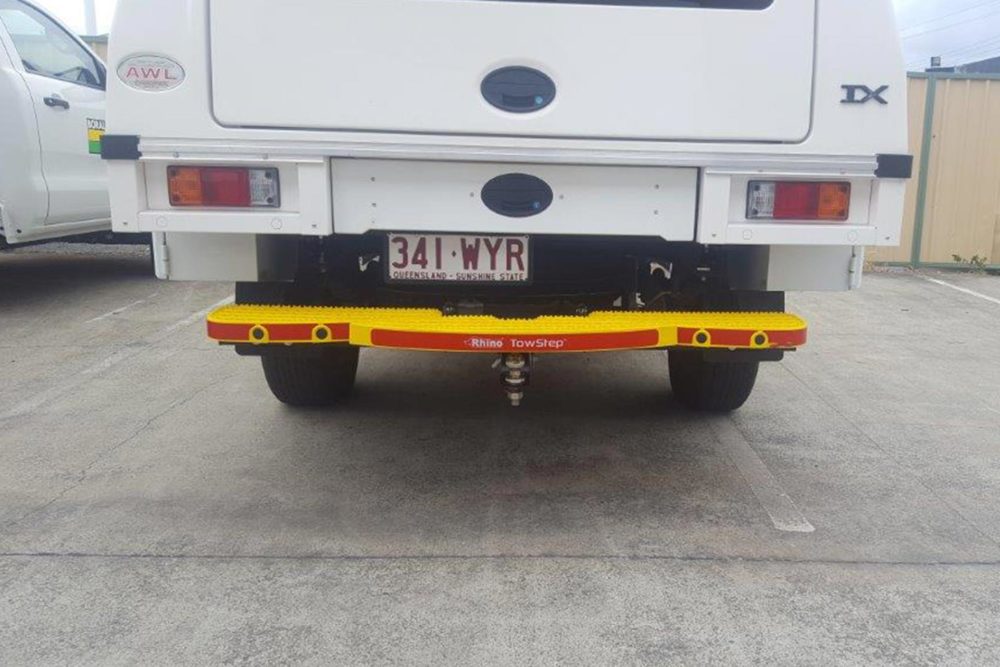 The ImpactStep protects your vehicle from low-speed parking and loading impacts.
The step significantly reduces body repair costs and vehicle downtime, which leads to big savings, particularly across entire fleets. ImpactStep is fitted with advanced shock absorbing units and a special pivoting bracket that protects the vehicle from low-speed impacts to keep your van moving. It has also been designed with health and safety in mind – with a full-width design, large safety tread area and anti-slip gripping tape.