IX CANOPY
Available in 2 & 3 door configurations
IX MODEL
Available in 2 & 3 door configurations
Here's what you can expect from our iX model ute canopies
The IX-service body offers endless options. Available for 2 or 3 door configurations, the IX Canopy is built tough to withstand rough treatment. The solid construction is achieved with a durable reinforced shell and built-in support bars to support loaded racks.
A popular choice for trade and fleet companies. Offering a 5 Year Structural Warranty, lightweight and innovative design that supports better fuel consumption and a higher load-carrying capacity.
The IX also features recessed windows that sit flush with the exterior, allowing for a greater glass area and clearer vision. The IX is available in single, extra, and dual cab configurations.
IX Single Cab
Height • 950 mm Width• 1885 mm Length • 2425 mm
IX Extra Cab
Height • 950 mm Width• 1885 mm Length • 2060 mm
IX Dual Cab
Height • 950 mm Width• 1885 mm Length • 1760 mm
IX Canopy
2 or 3 Door Options
5 Year Structural Warranty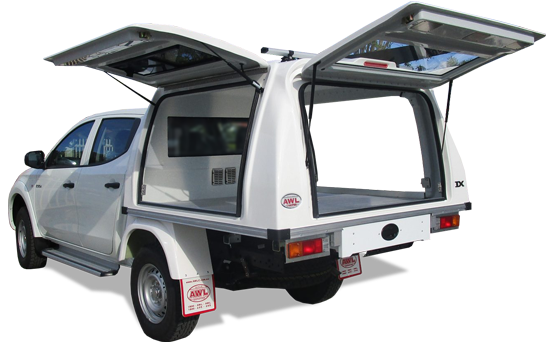 5 Year Structural Warranty
Rear door opening warning alarm
Full size side & rear opening doors
Long-lasting gas struts to opening doors
Advanced door seal system for water & dust resistance
Generous carrying capacity
Lightweight construction suited to better OH&S & fuel efficiency
Optional front & rear windows
More free inclusions, features and benefits than any other canopy